I'm pleased to say that DuckDuckGo is now included as a search engine option in Firefox in the latest Ubuntu 12.10 release.  DuckDuckGo and Twitter are the only search engines that are secure by default via HTTPS.
As a brief comparison I searched for pidgin in the Unity Dash, Google, and DuckDuckGo.  Which results do you like better?
Starting with Google and Unity Dash:
And Now for DuckDuckGo!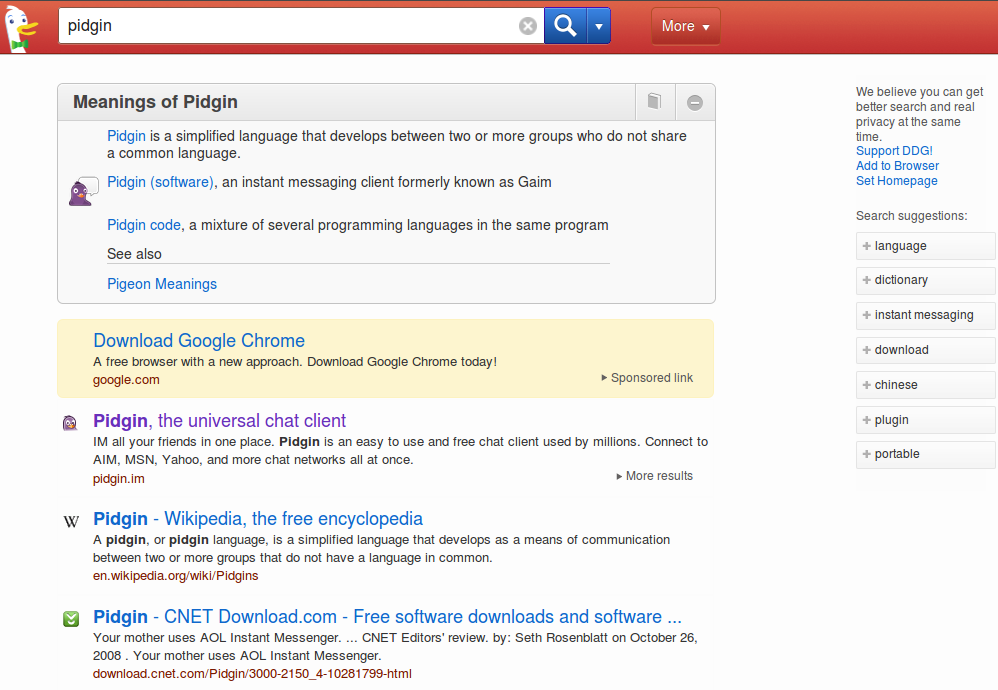 DuckDuckGo separates your search term into different uses, letting you further refine your search results or get instant answers from Wikipedia, dictionaries and many more sources.
DuckDuckGo doesn't track you or bubble you (customize your search so you rarely will be shown another point of view).  They also are partially open source and made it a goal to give back 10% of gross revenue to open source projects.
For a better overview of DuckDuckGo check out their about page, the introductory video is really nice.   This is just the start of a relationship between DuckDuckGo and Canonical, in fact they haven't even signed a contract yet.  Hopefully the relationship grows and enhances both projects.
Comments