My brother, Nick, just launched a new website/newsletter using Ghost. Ghost is pretty unique in this space, it is:
Backed by a Non-Profit
A web publishing platform
A newsletter publishing platform
A CMS for static sites
A member subscription / Patreon replacement
Here is Nick's experience with Ghost so far...
Pricing and Publishers
From a pricing perspective, the platform scales with your audience size. Importantly, Ghost does not take a cut of your membership subscription revenue. For this reason, the pricing incentives mean your Ghost site is more cost-effective when you have 100% paid members and 0% free members. I'm sure that ratio is a pipe dream for most publications, but that's how the business model works. Pricing is currently $9/mo for any site with 500 or fewer subscribers, including web hosting. For context, the new blog that I started in 2023 using Ghost is www.pastadollar.com. The site was originally an email newsletter from my generation of 14 cousins investing together. If you're looking for finance tips and travel hacks, Subscribe here! An email-list-to-ghost-site is a common path for Ghost users. I'm just starting, but major publications like The Atlantic, The Lever, and The Browser use Ghost.
Positives
Ghost has only a handful of themes, but on the whole, they are super clean and approachable. Picking one is as much about your content as it is about which one you list best. All of the themes are responsive and have all the standard customization options like colors and logos. Notably, there is no simple way to use custom fonts. Instead, you can choose between a serif font and a sans-serif font. There is a workaround, but the need for a long list of fonts is a relatively notable omission from a CMS or theme these days. The Ghost editor has a learning curve, but on the whole, it is excellent. I'm used to WordPress's editors, which are total crap by comparison. There are several Ghost editor keyboard shortcuts worth looking up, such as Shift+Enter to jump to the following line but to remain in the same editor block. Hitting Enter will jump to a new block, skipping more lines. The editor auto-saves your work as you go, just as you would expect any web-based tool to do these days. The saving experience is much like google docs - automatic and out of your way. However, sometimes when I haven't changed anything, a modal pops up asking me if I'm certain I want to navigate away without saving—maybe just a bug, but a bit annoying. Many tasks that take multiple steps in a WordPress site are automatic in Ghost. For example, when you add an image to a post or page, Ghost will optimize it. There is no more need to use a plugin or a site like tinypng.com to optimize the image in advance because the platform doesn't do it for you. Ghost was designed with plenty of best practices. For example, the default post URL is the post's title, without any year or dates included. Including dates is possible on other platforms but can quickly cause 404s and redirection issues if/when you update a post. The Ghost developers took the best practice, implemented it as default, and left it to you to simply create the content. It's great.
Negatives
Plugins
Ghost has a great library of plugins, which they accurately call 'integrations.' The catch is that most of these are integrations with other major companies' SaaS products, meaning many of them are paid solutions. The company Ghost seems to rely on the most to expand its functionality is Zapier. Half of the help and support articles I've read on Ghost seem to using Zapier to solve a problem. I don't think it's a stretch to say that Ghost relies heavily on Zapier, a freemium SaaS product. So basically, once you set it up and grow your site, it will eat into your bottom line. That isn't necessarily bad, provided it's worth it. But it seems like the solutions to expand your Ghost site are mostly paid solutions rather than something custom via code injection, which Ghost also supports. To be fair, I need to explore code injection solutions more than I have as of this writing.
Quality of Life Issues
URLs are a big part of any site, so I'm amazed this is an issue: When creating a hyperlink, there isn't proper data validation on the link. If you omit the 'https://www' from a new hyperlink, the Ghost editor saves it, but the URL will not actually work. Saving a link like "pastadollar.com" will show as a broken link and not work when you publish the post. This behavior is incredibly annoying because when you're in your site admin, many URLs around the dashboard omit the https://. To ensure your internal URLs will work, I've solved this by always copying them from the live site. Bullets and Numbered lists aren't an easy option I've found when using the editor. I finally found them hidden in an editor block called markdown editor card. The markdown block supports some rich text features that literally anyone who uses a computer is accustomed to. It isn't exactly user-friendly to hide them in a block, but I'm sure there was a good reason for doing so. Another simple workaround I used when I started was to simply copy and paste a bulleted or numbered list from a proper text editor. I'm guessing many writers create whole drafts outside the Ghost editor anyway.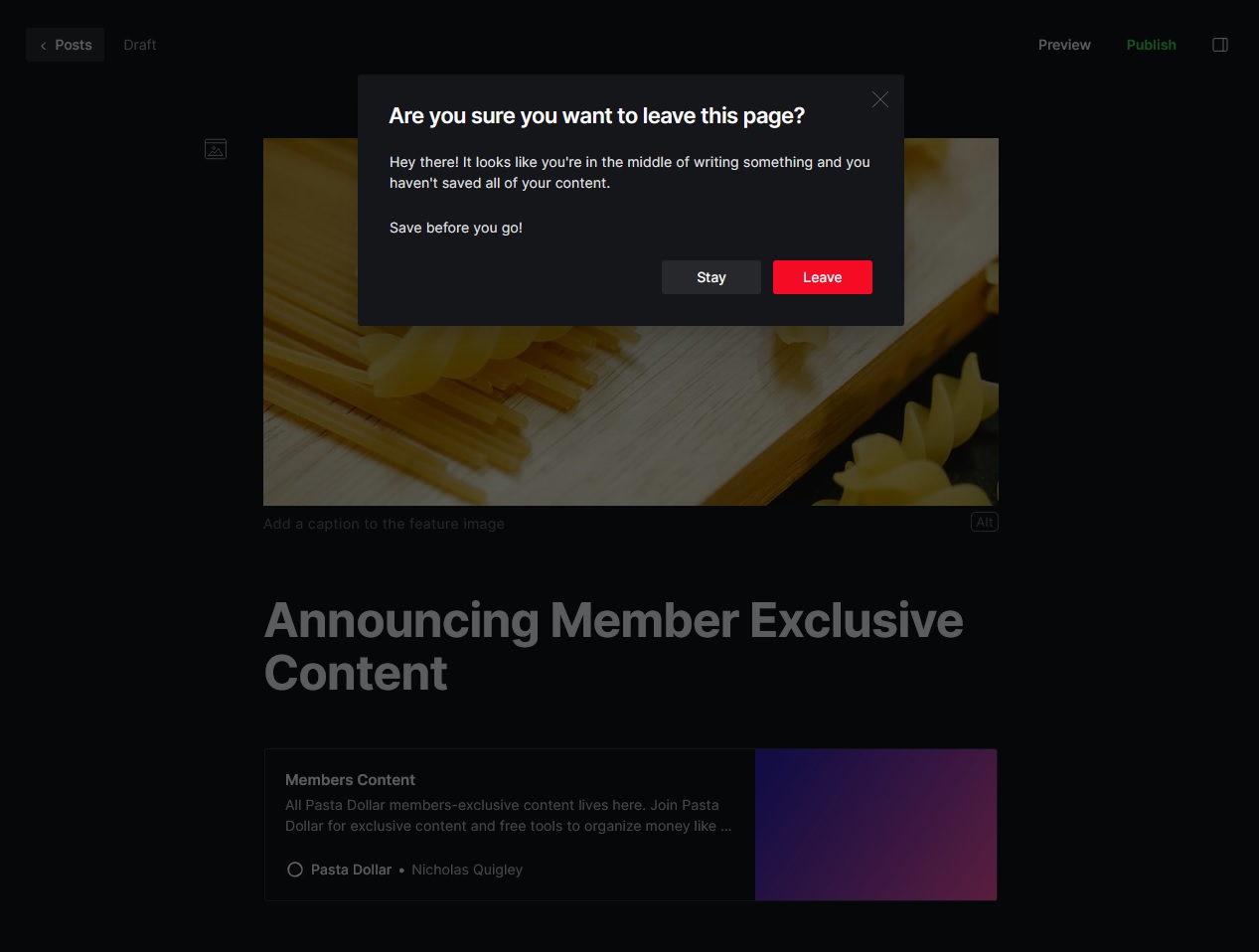 Alternatives
Alternativeto.net lists more than 250+ alternatives to Ghost, but that long list includes broader solutions like WordPress. Like probably anyone who has developed a website in their lives, I've used WordPress (and continue to use it to this day). WordPress, by default, needs a lot of help from its vast plugin library to set it up, similar to how Ghost works out of the box. I don't consider WordPress a proper alternative if your goal is primarily an email newsletter and membership site. Ghost is absolutely worth the cost over WordPress in that regard - it's not even close.
Beehiiv
In my opinion, the most similar and direct competitor to Ghost is a platform called Beehiiv. Beehiiv has less favorable pricing, and the themes and designs are uglier, but it boasts a stronger feature set out of the box. For example, two big ones are subscriber referral rewards for sharing with friends and more customizable email templates. To be clear, you can probably add these features to a Ghost site; it just takes some work. Both Ghost and Beehiiv are designed to scale quickly with your audience size.
Conclusion
Ghost support has been both highly responsive and extremely helpful. For example, I reached out about getting custom domain emails, such as [email protected], and their guidance was perfect. Their < 24-hour replies led me to many paid and free services and cautioned me on a few 'gotchas' others ran into. These were not canned responses, and I feel like I can go back to them for anything, and we will be able to find a solution. Overall, I love Ghost. The admin interface is spotless and fast. I'm coming primarily from WordPress, and the speed difference is a game-changer. I would work from many tabs simultaneously in WordPress because switching between different interface pages took too many seconds to load. The Ghost admin pages usually take less than a second to load.
Comments
Add a comment via Gitlab. And yes, Ghost has much nicer integrated commentng built-in.